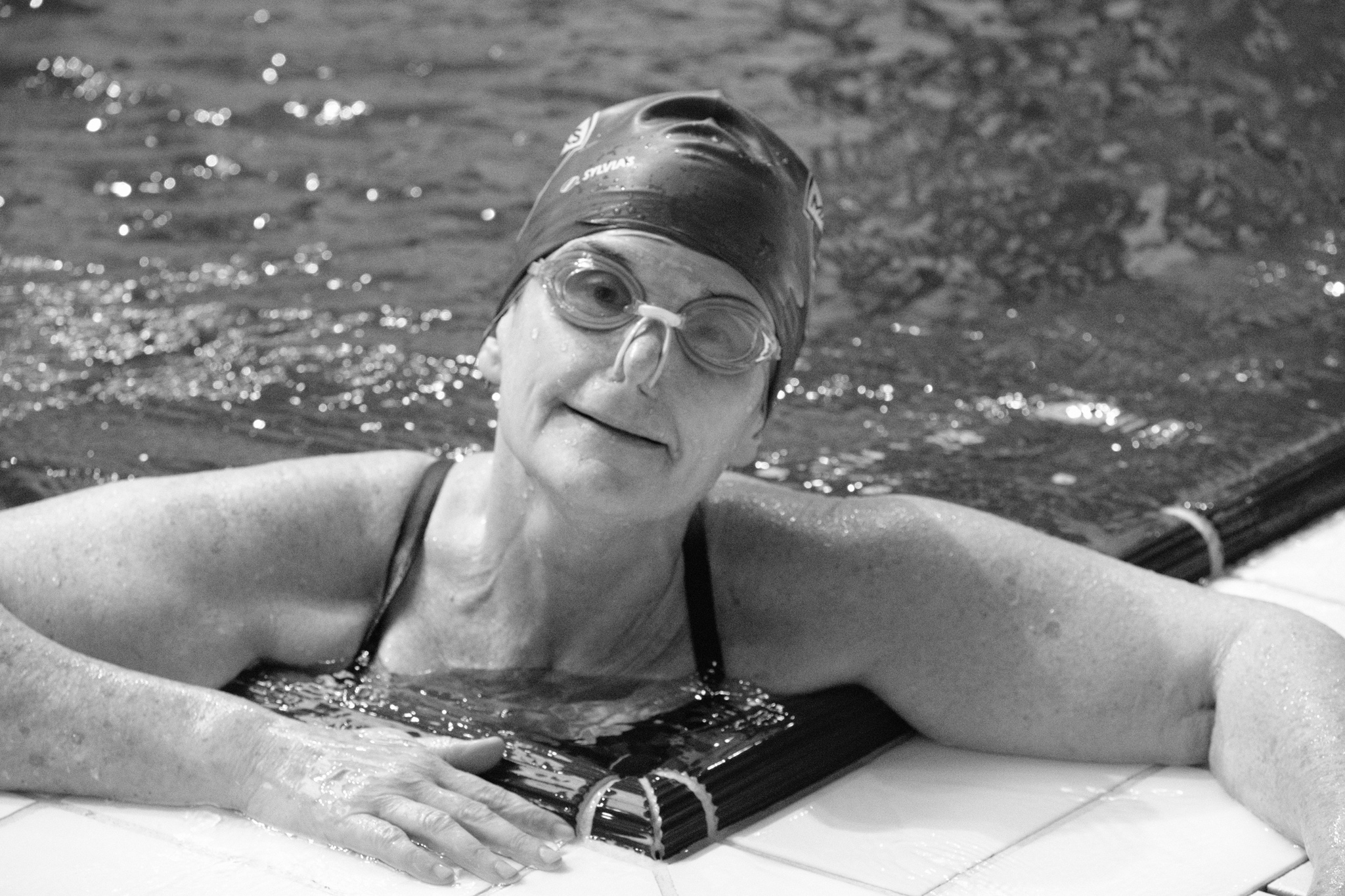 WE'RE IN IT DEEP
We'll admit that BAM is a little different. The sense of community found here is equal to no other activity anywhere ever. This is because it's hard not to respect other people who are pushing you to work harder because they believe you can do it. It's hard not to keep coming back, day after day, for another workout that leaves you feeling like you've found your place in the world - and that place is underwater.
We have a seriously good time in the water. We goof off. We kick butt. We focus on what matters. A couple times a year we put our clothes on and have a party - partners, spouses, children are always welcome and this gives us an opportunity to have conversations that last longer than the 60-second rest we get between sets in the pool. We have around 165 swimmers on our roster, but not all of those are active all of the time. Each practice has between 2 and 50 swimmers in attendance, depending on the day and the time of the practice.
APRIL CHEADLE, HEAD COACH
Coach April joined BAM in 2010. She was awarded the Kerry O'Brien Coaching Award by USMS Swimming in 2014, and the PNA Coach of the Year Award in both 2013 and 2016. Let there be no doubt that these awards were well-earned - and that they are the beginning of a career-long cascade of awards for outstanding coaching skill. She has coached 18+ years from age group to Masters and has attained Level 3 coaching status, and regularly accompanies our regional USMS team to Nationals as Head Coach or Assistant Head Coach.
The thing about Masters swimming that surprises me is...the courage that adults exhibit when trying new skills and risking and pushing beyond what they thought was possible.
At swim meets I'm...swimming every event with every swimmer both mentally and emotionally. I feel the butterflies in my stomach that mean I care about what I am about to do and all the work I've put into preparing for this race.
When I'm not coaching I'm...playing word games, reading, spending time with my family, walking in the sunshine or on all the trails around here, serving others and watching old movies.
JIM STRETCH, ASSISTANT SWIM COACH
Jim, known to his friends and teammates as "Stretch," swam competitively in high school (member of an
All-American 400 free relay team, 1969) and college
(UC Irvine). Stretch is formally trained as an ocean rescue lifeguard, a marine biologist, a research diver and dive control board member with field experience from the Sea of Cortez, Catalina Island, Santa Barbara, Great Barrier Reef, Chesapeake Bay, Bering Sea and Antarctica. His professional career focused in higher education as both an educator and continuing education administrator. Stretch has been a Masters swimmer in the Pacific Northwest since the early nineties. Go BAM!!!
The best word to describe the BAM team is… inspirational!
My favorite place to swim is… anywhere with my BAM teammates.
If I'm not swimming I'm... sailing, doing educational programming for our local woodworking cooperative (BARN), cooking, and sharing good times with my wife of 34 years.
My day job is... history! Retirement is a beautiful thing!
I swim because... it keeps me in shape and brings me together with some of the most friendly and fun people I know!
The thing I most want to learn in the pool is... to better develop my internal pacing sense for distance events.
KATE CARRUTHERS, ASSISTANT SWIM COACH
Kate first learned to swim in the Snake River, but fear of swift currents and rumors of the fearsome "Under Toad", kept her from truly enjoying open water swimming. She began her competitive career in a small town, outdoor pool and was constantly in the water on swim team, lifeguarding and, best of all, teaching others to swim during college summer vacations. Kate first joined BAM in 1998 when she decided to take up triathlon racing (and overcome her childhood fear of the "Under Toad"). Swimming quickly became her favorite leg of the triathlon. But, after 6 years, all of her racing is in the Ray pool on Bainbridge Island and at various masters meets, including national meets in Greensboro, Santa Clara, San Antonio and Federal Way. Kate has been an assistant coach since 2017.
Day Job...
Lawyer and judge.
Night Job...
Local theater director.
When I'm not swimming...
I'm at the theater, with my grandkids, hiking in the woods, or trying to learn what it's all about from Alfie, my labradoodle.
Favorite Set...
Anything April writes on the Board!
Best (two) words for BAM...
Camaraderie and Mastery.
I swim because...
It's the most challenging, meditative and fun activity that I can enjoy with friends!
Favorite post workout food...
Scrambled eggs with sautéed veggies, and a tall latte with extra foam.
YOU MIGHT BE WONDERING THESE THINGS:
Who can participate?
You can! Despite its elite sounding name, Masters swimming welcomes swimmers of all abilities. Any swimmer, age 18 and over can participate. We welcome triathletes, open water swimmers, competitive swimmers and fitness swimmers.
Am I fast/good enough?
Yes. Yes, you are fast/good enough. Masters swimming is open to all levels of swimmers. Generally swimmers of similar ability share a lane.
I swim laps now. How is a Masters workout different?
A Masters workout differs in a few key areas. First, you'll be with other people, who are working just as hard as you are. This turns them into comrades. Buddies. Supporters. You're gonna love that.
Second, the swim involves more than back-and-forth lapping. There is fascinating detail such as swimming a lap (or more!) on a specific time interval. There is learning and swimming all four strokes (if you want). Workout sets are carefully thought through to help you get the most out of your time in the pool. Because each workout is different it's easier to stay excited and enthusiastic about your training.
If you swim laps by yourself because you "really need the zen", you'll still find tremendous joy in swimming a Masters workout. You'll just be sharing the zen with friends.
Do I have to compete?
Nope. Only if you want to. Many Masters swimmers swim for fitness and social reasons and don't compete. Others enjoy competitions and organized swims as an opportunity to work on personal goals. If you're thinking of competing, but feeling hesitant, check out Ten (Dispelled) Reasons Not to Swim in a Meet.
How do I get started?
If you're thinking of joining, you're welcome try a Masters workout for free - you only need to pay for your entry to the pool. Workouts are at the Ray Williamson pool in the Bainbridge Aquatic Center. See the workout schedule for times. Drop Coach April an email and let her know when you might show up so she can welcome you properly.